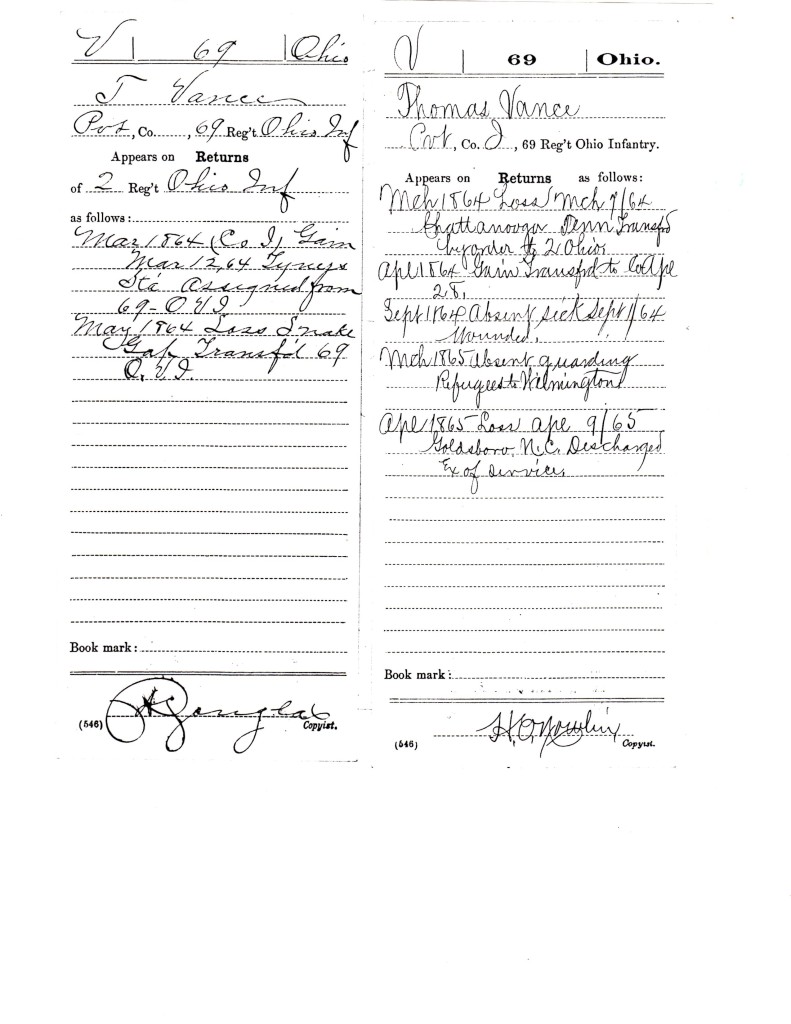 Thomas Vance's service record entry muster out
Nine letters that Thomas wrote during the Civil War were preserved and sent to Bowling Green State University. The letters dating between April 8, 1862 and April 3, 1864 were written to the Vance family by Thomas while he was serving with Company I, 69th Ohio Volunteer Infantry.
Below are Thomas' letters dated May 14, 1862 – September 5, 1862. During this period, the 69th saw action at Gallatin against Morgan (mentioned in the letter of September 5, 1862).
———————————————————————————————————————
May 14, 1862
Camp union, 37 miles south Nashvill
May the 14, 1862
Dear Sister
i take my pen in hand too in for you that i received your leter and was glad too hear from you and that you was well. i am well and harty and i still hope that when these few lines may com too hand they may find you all enjoying the same health. the boys is all well and in good spearits but Wells [Rufus R. Wells] and georg Mclary [George F. McClary] and they are a geting beter. We halve bin a hearing som purty good news. We heard that they was a fighting at corinth and the rebles was a vacuating it. if we Whip them thear we will halve them a bout Whiped. old morgan and his cavalry burnt a train of cars at lewisvill so we heard. we don't know wheather it is so or not. When you right too me tell me what the talk is a bout the war and what has bin a goin at hom. let me know how has the store that mr Robison had we heard that it was sole out. you wanted too know what kind of times we had. We halve the best kind of times plenty too eat and nothing too doo only too stand gard every other day and night. When you right let me know if you halve got our corn planted and what archy is a working at this spring if he is raising eney corn and how he is a getting a long with his tobaco ground. We took one prisener and captured 2 too meuls. We expect too make a good hall as soon as we com a cross eney thing that is worth taking. Thear was one compney capured 500 hundr bushel of corn a few nights a go. it was all redy sheled too send to the rebel armay. it was in a ould barn and they toock it from them. i bleave i hant very much moor too right this time onley still remain your efectionet brother untill death
Thomas Vance
Hear is a envelop all ready backed. Right soon
September 5, 1862
Sept the 5th [1862]
dear sisters
it is with pleasure that i take my seat to let you now how i am gitting along. i am not very well nor hant been. hoping you are all stout and hearty. i received your leter day before yesterday and was glad to hear from home. it was wrote the 9th and 10th of aug. i hant wrote any letters for three or four weeks. the male hant been going since the railroad has been tour up. i reckon you herd about our galiton fight on the lewisvill railroad. morgan took 150 prisoners and a train of carrs with about 65 horses to. we found boxes of crackers carried all over town by the citicens. they burnt the train. the 69th and 11th michigan and four pieces of artillery went thare the next day and they cidadled [skedaddled]. company A of the 69 was advance guard they fired on some of the rebels that was out and killed three and shot a horse. took the man prisoner. they soon left the town. we went in town as hard as we could run. i could not keep up. we put out pickets as soon as we got in town. they they killed two or tree. we staid there till after noon and went back. we went on the cars within 3 three miles of galiton. there was a bridge burnt when we got back there in the afternoon and got on the train and was about redy to start. the rebels came up and fierd on us killed one man. we soon got off the cars. some of the boys on top of the cars fierd at them. we got the artillery of the cars and fierd a fiew canister and grape shot supposing to kill 20 or 25 not surtain. we got on the train
[the next sheet missing]
———————————————————————————————————————
Transcripts have been made of the letters, retaining the spelling of the originals but inserting punctuation to improve readability
Article written by Henry Madison
Source:
Steve Smith (great grandson of Thomas Vance). Thomas Vance's daughter, Anna, is Steve's grandmother on his mother's side. Steve met Thomas' wife, Melvina, his great grandmother, in 1952 when she was 95 and he was five.
Steve's great uncle Ezekiel Smith also enlisted with his father (Steve's great great grandfather) during the Civil War when he was barely 16. They served in a Colorado artillery unit.  Ezekiel served his entire enlistment and went on to become an Indian fighter in old west.
Additional sources:
https://lib.bgsu.edu/finding_aids/items/show/520