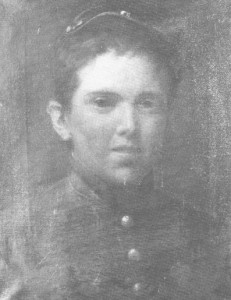 a self-portrait sketch of Julian Scott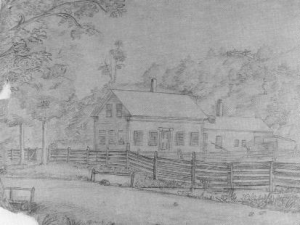 a sketch by Julian of his home
Julian Scott was 15 years old when he enlisted as drummer and fifer with the 3rd Vermont Infantry. He liked to sketch pictures and frequently sketched scenes and people in camp as well as scenes from the battlefield. During the 7 Days Battle retreat from Richmond in the early summer of 1862, his unit was involved in combat with the Confederate Army which required crossing a creek. As his regiment retreated across the creek, many wounded were trapped on the Confederate side. Julian made several trips under fire across the creek to bring back wounded soldiers. For his actions that day, he was later awarded the Medal of Honor.
A number of Julian's war sketches became famous after the war. He had a natural talent for drawing and painting, and after the close of the war he entered the Academy of Design in New York, where he remained for some time. He afterwards went to Paris and completed his studies. Upon returning to this country he opened a studio in New York, and remained there for a few years. He later became a renowned artist of Civil War art. Included herein are copies from one of his letters and of his art.
The following extracts are from a letter by Julian A. Scott, written to his father in Johnson, and dated near Kent Court House, Va., May 11:
A soldier of the 5th Regiment and I, went in advance of our army, so as to get some trophies the rebels left behind. We had got about a mile in advance when I spied a rebel scout. We resolved to take him, dead or alive; so we parted — my comrade going one way, and I another, so as to come on both sides of him, in order to take him alive. If he shot one of us, the other would be sure to bring him down.. I had my revolver cocked, and ready to take him if he meant to get away.. We caught up with him at the same time he spied my comrade. I saw the rebel take aim, and drew my revolver on him, so that if his took effect he must come too. He fired- the shot passed by. I hallooed "halt", pointing my revolver at him. He saw his fate, and threw down his gun. I walked up to him and took it, and my comrade and I took him to General Smith, feeling proud of our prize. The general spoke to me and said, " Scott, where did you get that fellow". I told him. He asked me if I had a gun. I told him I have not. He then said I might keep the one the rebel had. He asked the rebel a few questions about the secesh army. I then took him to the provost Marshal, and left him.
After the Battle of Williamsburgh he says:
I passed over the battlefield: It was covered with blood. There was one poor fellow that was dying near me. When I spoke to him, he said he was dying, and wished that his mother could know his fate. His father was killed at Bull Run: he enlisted to get money for his mother. He died in a few minutes. I closed his eyes , and tied my handkerchief around his head. To his order, he was buried the next day. There was one Lieutenant of Co. I, 5th North Carolina Regt., who was shot through the heart. The Col. Of the 49th Penn knew him, and said he would give five dollars to anyone who would bury him. Three of us took him under an old tree, and gave him a decent burial. I took his watch and drinking cup. In his wallet was his commission, looks of his wife, and his mother's hair, a gold pen, and some rebel postage stamps. His name was Samuel P. Snow.
My health is good. I take delight in fighting the rebels.
Samples of Julian Scott's art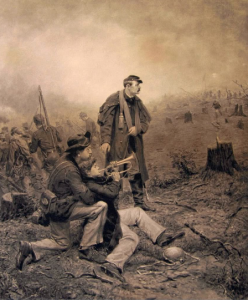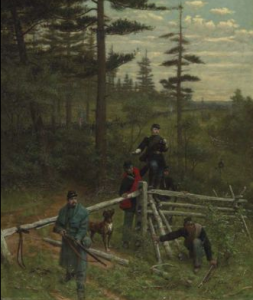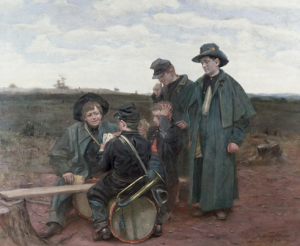 More information can be found on these web links from which this article was prepared:
http://www.google.com/imgres?imgurl=http://townofjohnson.com/Portals/12/julianphoto.JPG&imgrefurl=http://townofjohnson.com/History/JULIANSCOTT18461901/JulianScottArtistoftheCivilWar/tabid/953/Default.aspx&h=555&w=405&sz=22&tbnid=iyOAeda6hRFZ8M:&tbnh=59&tbnw=43&prev=/search%3Fq%3Djulian%2Bscott%27s%2Bart%26tbm%3Disch%26tbo%3Du&zoom=1&q=julian+scott%27s+art&usg=__CdWQ_as_PqIRy1hdVd53pDCpOqg=&hl=en-US&sa=X&ei=wad2UoqZEOy2sATCq4HQBQ&ved=0CCQQ9QEwAQ
http://vermontcivilwar.org/get.php?input=5226
http://vermontcivilwar.org/museum/moh/bios.php?input=5226