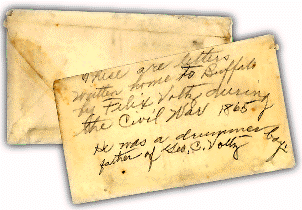 Felix Voltz was 18 years old (possibly younger) when he ran away from home on January 30, 1865 to enlist (to his family's dismay). He mustered out with the company on July 1, 1865, at Arlington Heights, Virginia, and served as a drummer in the 187th Regiment, New York Volunteer Infantry for five months.
Felix wrote letters to his family in Elmira, New York, which describes the rigors of Union Army life from February through June 1865. The letters are held in the Special Collections Department of the University Libraries at Virginia Tech. http://spec.lib.vt.edu/
Below is a letter from Felix to his siblings describing his life in the army. More than once, Felix comments on the regret he feels for leaving home.
———————————————————————————————————————
March 3, 1865
Page 1
March 3d / 65 187 Regt.
Dear Parents Brths & Sisters
I take the Pen in Hand this Evening to write you a few lines I have so much to Say I dont know what to comence at first The first thing I will let you know about Me being in the Drum Chor. We new Syuat formed A new Company in this Regiment and our Officers are for Captain is Capt. Tyler for Leit is Leit Fred Reiser for Ord is Anthony Duncolin and I suppose you all know him the Husband of Mary Wichter and for Drum Major is Joseph Roagh and I suppose you all know him he used to keep a Saloon on Corner of Ellicott & Genesee Sts.
Page 2
Now I will let you know how I got in the Drum Chor I had to go on Picket Duty the other day and when I came back I got sick for two or three days but I got over that and then I went to Tony the Orderly and ask him if they had A Drummer for our Company Says he No sir then he told me to wait A day or two and he would set about it then he to Drum Major and when he come back he told Me to go over to the Drum Major he wanted too see Me when I come over their who was Drum Major was Joe Koack and he told me if it was possible he would get Me in and then he came over and told
Page 3
me to give up my Musket and come with him then he said he would try and see if he could get Drum for Me here but he said I could not draw any government Drum down here he told Me to write Home fore one and have it send here you Tony can go and do this favor for Me he said the best and cheapest place you can buy one is on the corner of Main and Tiagarer Sts a new music Store and please buy a good one and I will make it all right as soon as I get My Bounty and he Joe told Me best way and the quickest way to send it would be by Mail / they tell us we will get our Bounty the 15th of this Month then I will send home all I possible can.
Page 4
No More news this time I will write again as soon as possible please tell Mother not to wearry herself about Me for I am all right yet and I hope will be so for the next year and tell here I am in no danger what so ever all I have to do is to take care of Me and my Drum and learn how to Drum as soon as possible I must not do no more guard or Picket Duty nor I must not take care of no Musket at all. Please tell Joe Duckene that he should excuse Me for not writing to him for I was at writing to him onced then I was called out for to go on Picket Duty but I will have More time know. So no more this time give my best Respects to all inquiring Friends. Please write as soon as possible for I am most sick to here a little something of home and please send me some postage stamps for I am out of them. I remain your truly Son and Brother.
Felix Voltz
———————————————————————————————————————
Article written by Henry Madison
http://thelakeshorenews.com/2013/01/18/carriage-house-stories-40/
http://chnm.gmu.edu/tah-loudoun/usregions/files/2012/08/historical-fiction.pdf