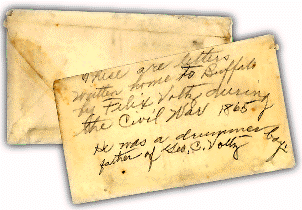 Felix Voltz was 18 years old (possibly younger) when he ran away from home on January 30, 1865 to enlist (to his family's dismay). He mustered out with the company on July 1, 1865, at Arlington Heights, Virginia, and served as a drummer in the 187th Regiment, New York Volunteer Infantry for five months.
Felix wrote letters to his family in Elmira, New York, which describes the rigors of Union Army life from February through June 1865. The letters are held in the Special Collections Department of the University Libraries at Virginia Tech. http://spec.lib.vt.edu/
Below is a letter from Felix to his siblings describing his life in the army. More than once, Felix comments on the regret he feels for leaving home. By the time Felix sent this letter, the war had ended. Troops were to be discharged—or redeployed south for Reconstruction.
———————————————————————————————————————
May 20, 1865
Page 1
May 20th / 65
Camp at Arlington Hydes
Dear Brths
I take the pen in Hand to write you ounce more that I an thank God all well yet Hoping these few lines will reach you the same the reason I say ounce more is because We are all thinking of being Home in A few Days. Dr Brths I beg you to excuse me for not writing sooner. the reason was because we was on such hard Campaing and I was most all the way sick the Day we marched through Richmond it so dreadfull Hot that nobody hardly could stand it and I was sunstruck and was taken to the hospitall
Page 2
in Richmond but I got over that in two days and was send to my Regt again. Dr Brth another thing that my Drum arived here yesterday allright in good Order and Joe Roach says that you could not send A better one for here in the Army I thank you Brth A W for doing that favor and as soon I get my Pay or my Bounty I will make it all right with you. Dr Brth I wish you would Answer soon and send me some Post. St. and some paper and Envelops I know no more news at Present. I will close my writing with sending my best Regards and love to you all in the Family tell Mother not weary herself about me because I am as healthy as ever I was and tell Father that I beg him
Page 3
to forgive me for being so Ugly and Headstrong tell him that I have found out what A home is and that there is nobody on this world thank Father & Mother and A Home and tell him if God safe my Health and lets me get Home Safe again that I will try and behafe and mind my Parents better than I have. tell Lechlerters Boys that Tony Beilman has come to the Regt again he was in Hospitall since last Fall. I will close my writing by sending my best Respects to Lechlerters Boys and Family to all Duchenes Family and I wish you would let me know in what Regt Joe Duchenes is Enlisted- give my best Respects to both Uncle and Bonmans Foalks.
Page 4
So no mor news at Present
I remain your
truly Brother
Felix Voltz
———————————————————————————————————————
Article written by Henry Madison
http://thelakeshorenews.com/2013/01/18/carriage-house-stories-40/
http://chnm.gmu.edu/tah-loudoun/usregions/files/2012/08/historical-fiction.pdf
https://warriorgirl3.wordpress.com/tag/felix-voltz/