A Young Confederate Casualty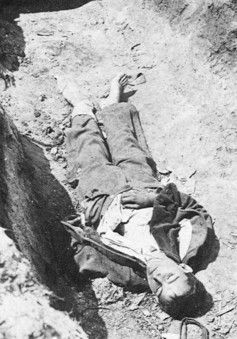 This unknown 14-year-old Confederate boy soldier was killed by bayonet at Fort Mahone.
EDWIN JENNISON – a Confederate Drummer Boy.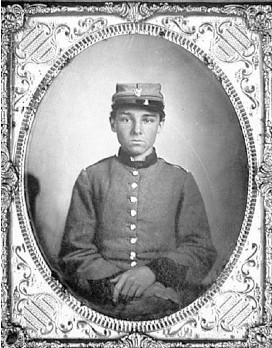 Private Edwin Jennison of the Georgia Infantry was killed at the Battle of Malvern Hill, Virginia, on July 1, 1862. During this battle the Union army did not use trenches. Instead they stood in battle formation. They were backed by 100 cannons in front and another 100 plus on the flank. The Confederates charged and suffered more than 5,300 casualties including Pvt. Jennison.
Pvt. Edwin Francis Jemison of the 2nd Louisiana Regiment, C.S.A., was shot and killed at Malvern Hill, Va., on July 1, 1862, at the age of 17. In July 1864, as the deaths of young boys mounted, the War Department required that officers cease enlisting soldiers under 16 years old or face severe penalties. Despite these orders, new underage recruits, many who would never return home, joined until the war's end.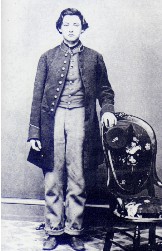 Rashio Crane was a 15-year-old drummer with Company D 7th Wisconsin. He was captured May 5, 1864 at the Wilderness while helping a wounded comrade. Sent to Andersonville Prison, he took sick and died July 23, 1864.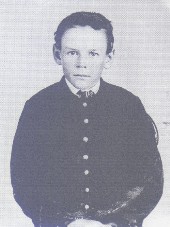 Benjamin Knox was a 15-year-old private in Company H 20th Ohio, from Vicksburg to the Atlanta Campaign. He was shot in the trenches at Atlanta and died a short time later in the company quarters.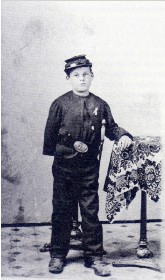 Ten-year-old Willie Lawn was wounded near Suffolk, Virginia, April 23, 1863. He lost part of his right arm.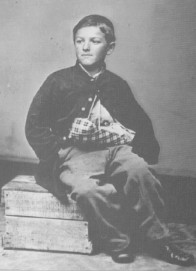 Twelve-year-old drummer William Black was wounded in the left hand and arm by an exploding shell.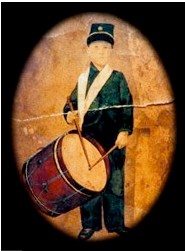 Edward Black was born on May 30, 1853, and on July 24th, 1861 he signed up with the 21st Indiana Volunteers 1st Regiment as their drummer boy. At 8 years old, it is believed to this day that he was the youngest Union Army solider, and the youngest ever since to enlist in the armed services.
Drummer boys were in use before the Revolutionary War to maintain a "pace" or rhythm for marching or charging a line. By the time of the Civil War their use was at an all-time high with tens of thousands serving between the two armies. The drummer boy was often near the front of the advancing troops, transmitting the orders of the commanding officers to the troops telling them when to advance, change pace, change direction, charge, or retreat.
Eddie's first tour saw action along Maryland's Eastern Shore, around New Orleans, and at Baton Rouge. On August 5th he became a prisoner of war at the age of nine when he was captured during the Battle at Baton Rouge. He was released a few days later when the city fell. A general order at about this time abolished certain military bands and Eddie was discharged September 11, 1862, after having served a little more than a year, making him the youngest veteran of the entire war.
Edward went home to Indiana as ordered but didn't stay for long – he re-enlisted again with his father that very same year, and they both served until the war's end. His total service added up to more than three and a half years – a veteran now at eleven.
Local historians believe Edward died June 30, 1872, just a month past his nineteenth birthday, one of the earliest of the youngest to die. His gravestone puts his death a year earlier. An obelisk beside his grave, upon which is inscribed "Drummer Boy of the 21st Ind. Regt. at the age of 8 Yrs. 6M. The Youngest Soldier of the Rebellion," carries the later date. He was also the youngest P.O.W. of the war. His death was from disabilities incurred from his battle service, having never fully recovered from the traumatic experience of war.
Edward is buried in Crown Hill Cemetery, Indianapolis, Indiana, Section 16, Lot 148, next to his twin brother who died less than one year after birth. Both gravestones sit next to the obelisk. Interestingly, Edward's stone is in much better condition than his brother Edwin's, and the dates of death for Edward on the obelisk and the headstone do not match – one states 1871 and the other 1872.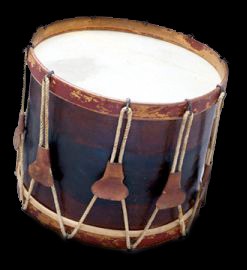 Edward's Civil War drum, now in the collection of the Children's Museum of Indianapolis, was carefully preserved over several generations by his family, until given to the museum in 1969 by Allen Wade Mount, Sr., upon his mother's death.
Sources: "Lost Indiana".
With material from Callow Brave & True by Jay S. Hoar