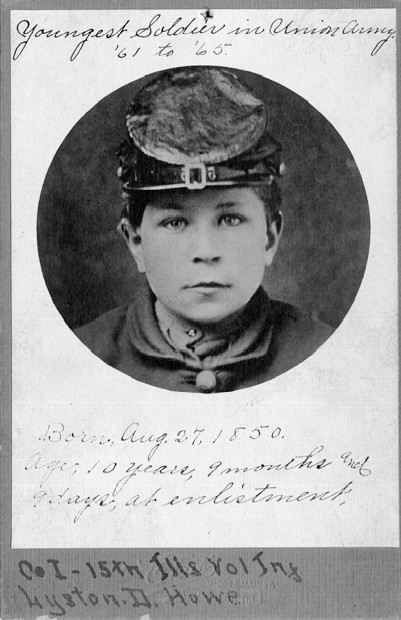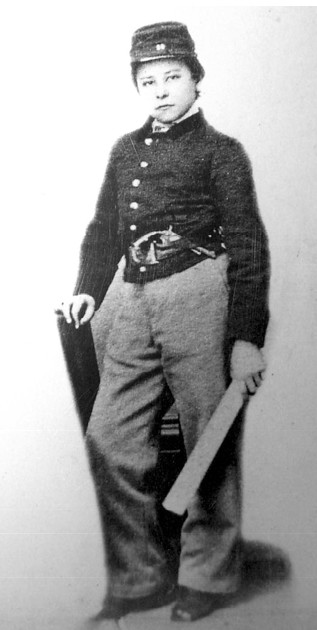 The stories of Lyston and Orion Howe can be found in G. Clifton Wisler's book, When Johnny Went Marching. Their father, William Howe, was a veteran musician from the Mexican War. He had taught both boys to play the drum, and they were good. Lyston was still 10 years old when he followed his father into the 15th Illinois Infantry. Orion was made to stay in Chicago attending school. The father and son served in Missouri, until weather conditions caused Lyston to run a dangerously high fever.  Believing him near death, he was discharged in October 1861 and sent to his grandmother in Chicago. But he surprised all and recovered. William became fife major for the newly formed 55th Illinois Infantry and once again, Lyston got to go and Orion was left behind. This time he was determined to go, sneaked aboard a train, then a supply boat. Arriving in Memphis, Tennessee, Orion persuaded Lieutenant Colonel Oscar Malborg to accept him as drummer for Company C.
Orion soon became the pet of the whole outfit. From September 1862 when he enlisted at age 13, he continually amused his companions, outwitted officers, and dreamed up mischievous schemes for his brother and the other drummers. The two brothers found themselves on their own when their father left the army in February 1863. In May, the 55th became part of the Vicksburg Campaign. On the 19th, the 55th was ordered into action against fortified Confederate positions.  Advancing along Graveyard Road, the regiment became trapped in a narrow    ravine.
As men fell all around, Orion rushed out among the fallen to retrieve their cartridge boxes. Ammunition was running low. The colonel, fearing for Orion's safety, sent him and at least two others, back to the main army with a request for more ammunition.
They took off across the battlefield dodging bullets along the way. His companions were killed. Halfway to safety, Orion went down with a musket ball through his right leg. But he got up again and continued on to report to General Sherman, in spite of pain and loss of blood, the terrible situation of his unit. Sherman sent relief and ordered Orion to the hospital.
Impressed with the boy's bravery and determination, the general arranged for his admission to the U.S. Naval Academy. Before this could happen, Orion was involved in an incident near Dallas, Georgia. There, while running dispatches, he picked up a discarded rifle and fired toward a group of resting Confederates. He missed. Angered, they fired back hitting him twice in the arm and once in the chest.  Finally, in 1865, Orion became a Midshipman.   But it didn't last. He did not do well with the discipline and was dismissed after two years.
Orion's military adventures continued after the war.  He  was  shipwrecked  in  the Merchant Marine, and wounded and left for  dead  in  the  Indian  campaigns  in  northern California. Decades after the war, units were given the opportunity to name one of their own for the Medal of Honor.  The 55th named Orion.  He received his Medal of Honor on April 23, 1896.
Primary source: G. Clifton Wisler, When Johnny Went Marching, 2001, pp. 31-34
*           *          *
drummer 3rd  Vermont, Medal of Honor/Peninsula Campaign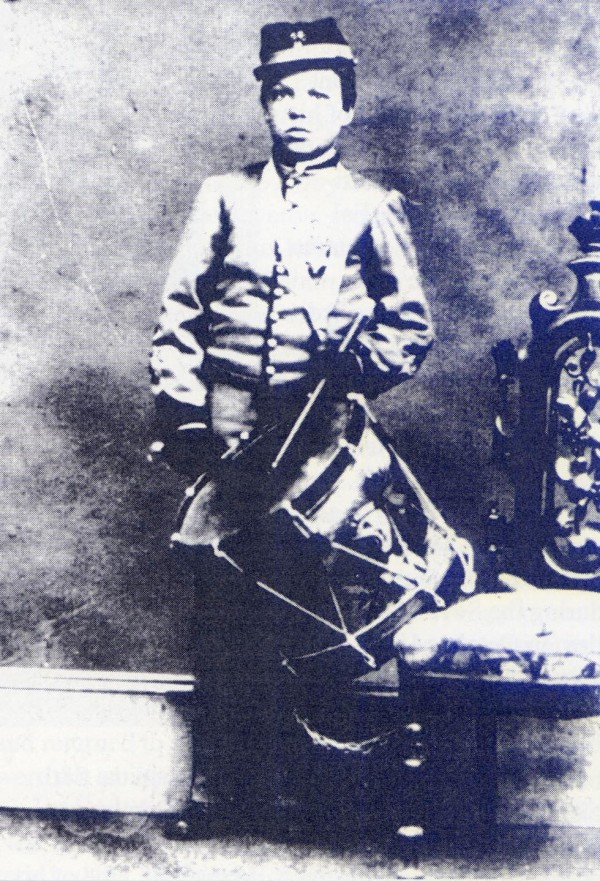 Believed to have been born sometime in July 1850, William E. "Willie" Johnston, serving as volunteer drummer for regimental recruiters, joined Company D of the 3rd Vermont Infantry when his father enlisted. Due to his age, he could not formally muster in for pay, but in December of 1861 he enlisted and went along anyway serving in all the camp duties of a regular musician. As the summer campaign got underway, he was mustered in and immediately saw action in the Peninsula Campaign. The Federal Army had advanced to the outskirts of Richmond when the Confederate General, Joseph E. Johnston was wounded and replaced by Robert E. Lee. The war turned and the Union soldiers found themselves driven back toward the Chesapeake Bay.  Finally, at a place called Malvern Hill, they regrouped and held their ground.
Willie, like many others, had lost most of his gear through it all, but he hadn't lost his drum, for he knew he was useless to his comrades without it. When the regiment assembled the following week for a grand review, Lincoln was there. He noticed that the makeshift band had but a few fifers and only one drum. It was Willie. The president paused to speak to the boy. He was visibly shaken to learn the boy's name was Willie.  His own son, Willie, had recently died of a fever. They would meet again.
Willie became sick that summer and ended up in a hospital in Baltimore.  After he recovered, he was assigned there as a nurse and orderly. In September of 1863 he was taken to Washington, DC, bathed, clipped, and fitted out with a new silk uniform.  Afterwards, Willie   found himself in the reception hall of the War Department facing Colonel E. D. Townsend, assistant adjutant general of the entire United States Army.  The colonel spoke a few words to the crowd of dignitaries gathered there, then presented Drummer Willie Johnston, just 13 years old at the time, with the Medal of Honor. The medal had been authorized July 12, 1862, to be presented to non-commissioned officers and privates for gallantry in action. General Smith had noticed Willie's actions that summer and had submitted his name in recommendation for the  medal.   The picture above was taken the day of the ceremony.
President Lincoln had not forgotten the single drummer from the previous summer. Following the presentation he visited privately with Willie before the boy left to return to his duties.
Willie Johnston's story can be found in When Johnny Went Marching by G. Clifton Wisler, and in Too Young to Die by Dennis M. Keesee, along with the stories of dozens of other young boys who fought in the Civil War. Young Johnston is also the subject of a book, Lincoln's Drummer, written by G. Clifton Wisler