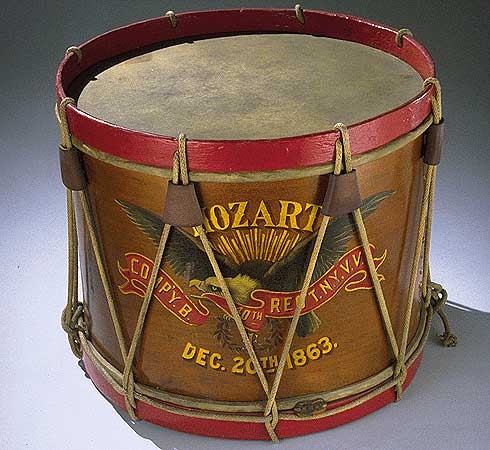 Born on February 13, 1847, Hamilton Wetherby was just 15 years old when he mustered into the US army on August 20, 1862, and became a drummer boy for the 111 Regiment, New York State Volunteers, Company C. Like many other young boys who seek to join the army, Hamilton lied about his age so he can serve with his brothers and cousins. Hamilton was promoted to private before he was killed in action on May 6, 1864 at the Battle of the Wilderness, Virginia. He was originally buried at Cook's farm, Spotsylvania, and then re-interred on the heights above Fredericksburg, now the national cemetery.
Below is a letter written to Hamilton's sister Ellen on Feb. 25, 1863.
———————————————————————————————————————
Dear Sister Ellen,
I must begin a letter to you. I was astonished when I opened your letter and found it dated the 25 of January but you said in your letter that you did not get much time to write so I will excuse you this time but you must do better next time. You say that you are a going to school as busily as ever. It makes me almost homesick when I think of it that I cannot be there to go too. Well I will tell you about that box you sent Edwin and me. Those little pies you sent me they were dried up some but the rest of the things are first rait and those berries too were first rait. I shook them right out of the tin pail. I have that yet and I am a going to hang to it for as long as I can. Well you wanted to know if I had heard anything from Cousin David Wetherby. I have not had a letter from him since I left home. We had a paper here and it said in that that there were sixteen of David's Regt. taken prisoners and Alfred Bruicer name was called in the paper too. I am afraid that David will fair pretty hard at Richmond. I heard that they did not get only three hard crackers a day. If that is so it is pretty hard. Well, if it had not have been for General McClellan and Burnside at Harper Ferry we should have been marched to Richmond and stayed there until we were exchanged. But old Jackson had all he wanted to get away as he did.
Yes, Ellen my birth day is passed and I am sixteen years old and you are eighteen. Well I am as large as Edwin now. I should like to be there to go to singing school with you. Do you earn enough to pay you for going do you think. How much does he ask you apiece for learning you. You say Maria and Ann sends their best respects to me. Tell them I send my best respects to them and Mary too. Mothers and Emmas dress I think they are pretty. Then when school is out you must write more and oftener and I will try and do the same by you.
I must close now so good by from your Brother, Hamilton Wetherby.
Tell Father if he has got it to spar he may send me one dollar that will be enough until we get our pay. I do not want him to send it if he has not got it to spare and please let me know whether you get that check or not. Answer as soon as you get this. So good by Ellen. From Hamilton.
———————————————————————————————————————
Article written by Henry Madison
Sources:
Beverly Sayles – Victory town historian. Beverly may be reached at beverlycs65@gmail.com
http://auburnpub.com/lifestyles/civil-war-drummer-boy-s-letter-gives-glimpse-into-history/article_6a3fe384-6000-11e1-a7a2-0019bb2963f4.html
Photo Credit:
Photo taken from Wikimedia commons