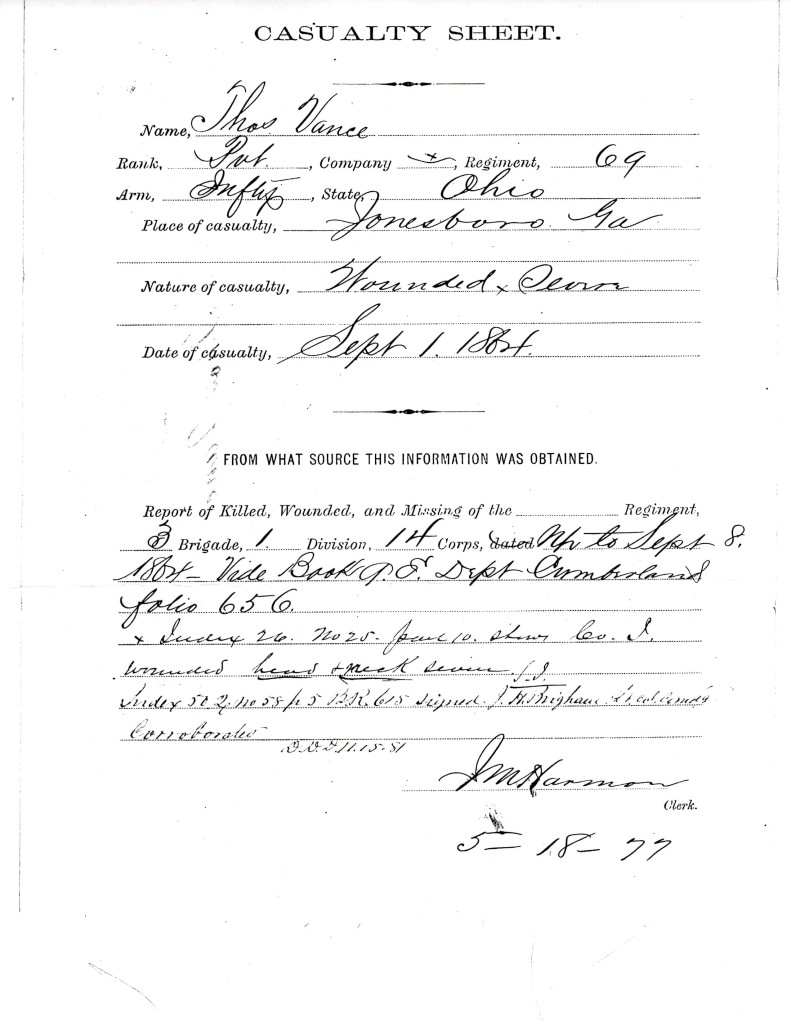 Thomas Vance's wound record
Nine letters that Thomas wrote during the Civil War were preserved and sent to Bowling Green State University. The letters dating between April 8, 1862 and April 3, 1864 were written to the Vance family by Thomas while he was serving with Company I, 69th Ohio Volunteer Infantry.
Below are Thomas' letters dated November 9, 1862 – December 15, 1862. The Battle of Stones River at Murfreesboro, Tennessee was referred to in the December 15, 1862 letter.
November 9, 1862
November the 9th, 1862

Dear father,

it is with pleasure that i once more take my pen in hand to let you know that i am well hoping that these fiew lines may reach you all enjoying good health. i have been well. i hant heard from home for about 3 months. i have wrote some not mutch. i did not expect that you would git them. we have been at nashvill all the time. the boys is all well and hearty. there is a good many troops here now. there is about 30 thousand come here 3 or 4 days ago. i guess there is 90 thousand on the roads. there was rebels close here last wednesday morning. they fired at the fort. they fired from the fort stoped their fireing. we followed them 5 or 6 miles and had a litle fight. some of them got between us and town. i believe there was none hurt of our regiment. there was 4 or 5 killed and wounded. i hant time to write any more at preasant or the male will go, so good by for the preasant. i will write again soon thomas Vance write soon good bye.
December 15, 1862

Dec the 15th [1862]
nashvill tennessee

Dear father,

it is with pleasure that i once more take my pen in hand to write you a fiew lines to let you know how that i am at this time. i am well and hope these fiew lines may reach you all in good health. we have moved about 5 or 6 miles from nashvill on the franklin pike. neglys division is here. we are the advance on this road. we have been here 4 or 5 days. we don't know how long we will stay here. we may go to murphysborough. they say that the rebels has a strong force there . we was a foreign [foraging] yesterday and was with in two miles of their pickets. i hant time write mutch now. i will write again. good by dear father
Thomas Vance
write soon
Transcripts have been made of the letters, retaining the spelling of the originals but inserting punctuation to improve readability
Article written by Henry Madison
Source:
Steve Smith (great grandson of Thomas Vance). Thomas Vance's daughter, Anna, is Steve's grandmother on his mother's side. Steve met Thomas' wife, Melvina, his great grandmother, in 1952 when she was 95 and he was five.
Steve's great uncle Ezekiel Smith also enlisted with his father (Steve's great great grandfather) during the Civil War when he was barely 16. They served in a Colorado artillery unit.  Ezekiel served his entire enlistment and went on to become an Indian fighter in old west.
Additional sources:
https://lib.bgsu.edu/finding_aids/items/show/520