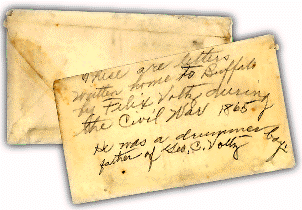 Felix Voltz was 18 years old (possibly younger) when he ran away from home on January 30, 1865 to enlist (to his family's dismay). He mustered out with the company on July 1, 1865, at Arlington Heights, Virginia, and served as a drummer in the 187th Regiment, New York Volunteer Infantry for five months.
Felix wrote letters to his family in Elmira, New York, which describes the rigors of Union Army life from February through June 1865. The letters are held in the Special Collections Department of the University Libraries at Virginia Tech. http://spec.lib.vt.edu/
Below is a letter from Felix to his siblings describing his life in the army. More than once, Felix comments on the regret he feels for leaving home.
———————————————————————————————————————
February 22, 1865
Page 1
February 22nd /65
Dear Parents Brths & Sisters
I now undertake to write you a few lines. I have so much to say that I dont what I should comence at first. I will tell you about my being here and how I got here. We left Elmira about 3ocl last Tuesday We went on the cars in Elmira and rode all that Night until the next day about 10 ocl than we came in Baltimore and we marched from the Depot up to A Fort called Federal Hill about 2 miles from the Depot and we stayed their that Night and next day about 5 oclock then we marched all around the town untill we got to the Water and their we went
Page 2 & 3
into a Steamer but not into no Rooms or on deck for a Soldier is no Account down here at all. we was put down in lowes & end of the Boat where they keep all the dirtyest Stuff they have such things as hides and their we had to stay untill we got up to Fortess Monroe. then we got to Fortess Monroe about Noontime then we marched about 4 miles from the town and got too A place called Camp Hamilton and they put us into Barigs where there was about 300 soulders and their we stayed that Night untill Moring about 7 oclock then we marched that same way in and when we got to the dock the Boat was gone then we
marced back to Fortess Monroe and stayed in the yard around untill Eveing about five oclo and then we left Fortess Monroe and rode that Night about 10 oclock then came to a place called City Point then we marched about a mile their we came too some tents and their we stayed that Night untill Next Morning about ten oclock then we went down too the Depot then we got on top the Cars and rode about 40 miles then we got to a Station called Patricks Station and their we got of and marched out in the field about 6 or 8 miles then we arrived to the Regment when we got here the whold Regment almost
Page 4-5 missing
Page 6
tell Lechlerters Boys to write to me once an while. best Respects to Stelebens Family. tell Mother not to weary about me for I am all well and Sound and I hope I will stay so this year. another I wish you let me know if you received that Picture and Photoghap and those tow Letters that I send home from Elmira and I expect the Pay Master will be here today or to morrow then I guess we will get our Bounty I will send it as quick as I get it No more at Present only write as soon as possible for I am most sick to hear from home.
Page 7
Direct Letters
Felix Voltz Co. K
187 Regiment NYSV
2nd Division 15 Corps
Washington D.C.
To be forwarded
I remain your truly
Brother & Son
Felix Voltz
———————————————————————————————————————
Article written by Henry Madison
http://thelakeshorenews.com/2013/01/18/carriage-house-stories-40/
http://chnm.gmu.edu/tah-loudoun/usregions/files/2012/08/historical-fiction.pdf