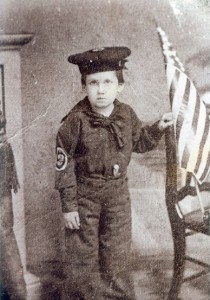 "Powder Boy" James V. Johnston
* James "Jimmie" Vincent Johnston was born September 23, 1857, and "was the youngest person who rendered effective service in battle" during the Civil War at age 6 ½.
* His father, Captain John V. Johnston, was executive officer on Admiral Andrew Hull Foote's flagship during the attack on Fort Donelson.
* On February 13, 1864, his wife and their son, Jimmie, were aboard the USS Forest Rose gunboat with him when they were unexpectedly attacked by a force of five thousand Confederates who were trying to cross the Mississippi to reinforce General Joseph E. Johnston, who was confronting General Sherman in Georgia.
* From February 13 to 15, the USS Forest Rose resisted their attempts to cross the river. Captain Johnston attempted to keep his son below deck with his wife, but the boy escaped to be with the gunners several times.
* Finally, when the regular powder boy was shot and killed, Jimmie took on his role.
* When his father discovered him, he asked where he had gotten the load of powder. Jimmie replied, "Why, Tommy [the powder boy] had his head shotted off over there, an' I'm a-carrying' his powder."
* Thanks to little Jimmie's help, the Forest Rose repelled the Confederate force successfully.
* After the battle, in appreciation of the boy's heroics the sailors nicknamed him "Admiral Jimmie" and made him a miniature sailor's
uniform.
Resources
Websites
http://www.civilwarmo.org/educators/resources/info-sheets/jimmie-johnston-child-soldier-civil-war
http://www.dailymail.co.uk/news/article-2237476/Civil-War-era-photograph-collection-displays-dignity-young-men-join-battle.html
http://www.old-picture.com/1860s-index-001.htm
http://www.civilwarmo.org/educators/resources/topics/soldiers-experience
Books
A History of Missouri 1860-1875 by William E. Parrish
Children of the Civil War by Candice Ransom
Civil War for Kids by Janis Herbert
Civil War in Missouri Day by Day by Carolyn Bartels
Civil War on the Western Border by Jay Monaghan
Civil War's First Blood by James Denny, John F. Bradbury
General Sterling Price and the Confederacy by Thomas C. Reynolds
I'll Pass For Your Comrade: Women Soldiers in the Civil War by Anita Silvey
Kids During the American Civil War by Lisa A. Wroble Missouri Brothers in Gray by William Jeffery Bull Missouri Slave Narratives by Federal Writers' Project Nobody's Boy by Jennifer Fleischner
Sterling Price: Portrait of a Southerner by Robert Shalhope